Nearly a dozen Chinese military planes and three navy ships were detected near Taiwan on Monday amid heightened tensions, according to Taiwan's Ministry of National Defense.
In a tweet on Monday, Taiwanese officials said 11 People's Liberation Army, or PLA, planes and three People's Liberation Army, or PLAN Navy ships were detected as of 6 a.m.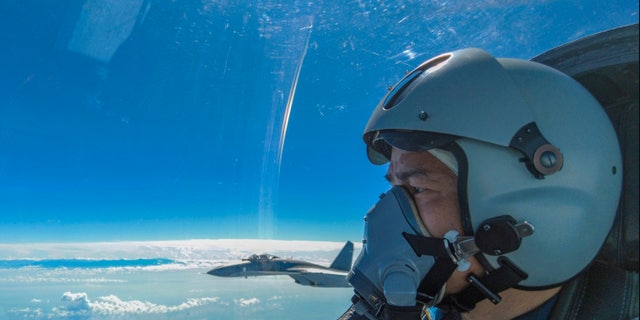 He added that seven of the detected planes crossed the center line of the Taiwan Strait, which is an unofficial buffer zone separating Taiwan from China.
TAIWAN DEFENSE MINISTRY SAYS DOZENS OF CHINESE MILITARY PLANES HAVE ENTERED AIRSPACE NEAR THE ISLAND
It is the second day in a row – and the third day in a week – that China has crossed the middle line of the Taiwan Strait.
On January 8, dozens of Chinese planes and four ships were detected near Taiwan, with at least 28 planes crossing the median line.
Following Sunday's incident, the People's Liberation Army Eastern Theater Command said in a statement that it had conducted "joint combat readiness patrols and actual combat drills" to "resolutely counter the provocative actions by outside forces and separatist Taiwan independence forces".
As for Monday's incident, no statement from China had been made.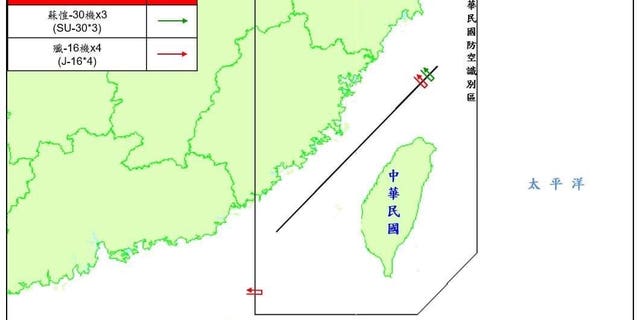 Taiwan's Ministry of National Defense said its armed forces were monitoring the situation and had tasked aircraft, navy ships and land-based missile systems to respond to the activities.STATE DEPARTMENT CALLS ON CHINA TO BE MORE TRANSPARENT ABOUT CURRENT COVID-19 OVERFLY, ORIGINS OF VIRUS
In August, tensions rose after House Speaker Nancy Pelosi visited Taiwan. In recent months, China has increased the number of combat exercises around the island in recent months.
CLICK HERE TO GET THE FOX NEWS APP
Chinese President Xi Jinping told President Biden at the November G20 summit in Bali that the Taiwan issue was "the very core of China's fundamental interests" and the "first red line" in bilateral relations.
President Biden said after that meeting that he "does not believe there is an imminent attempt by China to invade Taiwan."