The US Navy has seized more than 2,000 assault rifles after stopping a suspected smuggling vessel en route from Iran to Yemen, the Navy said on Tuesday.
USS Chinook deployed a boarding party to the ship in the Gulf of Oman with support from USS Monsoon and USS The Sullivans on January 6, discovering a crew of Yemeni nationals. The United States has confiscated 2,116 assault rifles and is in the process of repatriating the ship and its crew, according to a Navy statement.
"This shipment is part of an ongoing pattern of destabilizing activities by Iran," said Vice Admiral Brad Cooper, commander of U.S. Naval Forces Central Command, U.S. 5th Fleet and Combined Maritime Forces. "These threats hold our attention. We remain vigilant in detecting any maritime activity that impedes freedom of navigation or compromises regional security."
The Yemeni-crewed vessel was the third fishing vessel to be found smuggling lethal aid from Iran to Houthi rebels in Yemen since November. US forces also seized more than 50 tons of rounds of ammunition, rockets and rocket propellants on December 1. USS The Sullivans, USS Hurricane and USCG John Scheuerman also intercepted more than 70 tons of chemicals used to make rocket propellants and explosives on November 1. 8.
A WATCHDOG: ACCESS TO KEY IRANIAN DATA MISSING SINCE FEBRUARY 23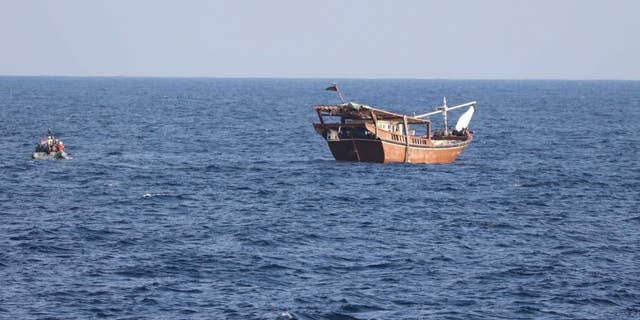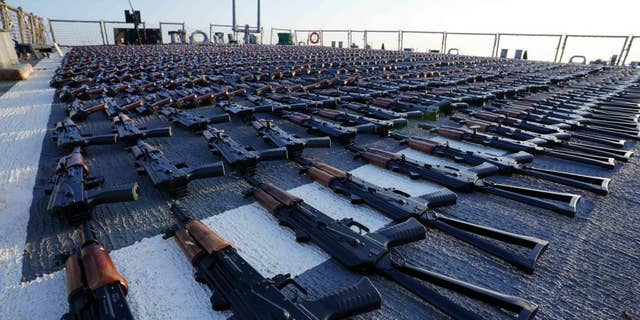 The US Navy regularly patrols common smuggling routes in the Gulf of Oman. Iranian ships smuggling weapons into Yemen must travel east across the gulf before heading south to Yemen.
International law and the UN Security Council prohibit the direct or indirect supply, sale or transfer of arms to Houthi rebels in Yemen.
POMPEO SAYS BIDEN'S IRAN TALKS 'WASTED' MIDDLE EAST STABILITY: 'PUTTING US ALL AT RISK'
The US Navy also has a long history of interactions with Iranian ships in the region. Three Navy of the Islamic Revolutionary Guard Corps (IRGCN) clashed with a US convoy in the Strait of Hormuz in June 2022, with one of the ships coming within 50 yards of the USS Sirocco.
"A die IRGCN vessels approached Sirocco head-on at dangerously high speed and only changed course after the US coastal patrol vessel sounded warning signals to avoid collision. The Iranian vessel also came within 50 meters of the US Navy ship during the interaction, and Sirocco responded by deploying a flare," the US Navy said of the incident.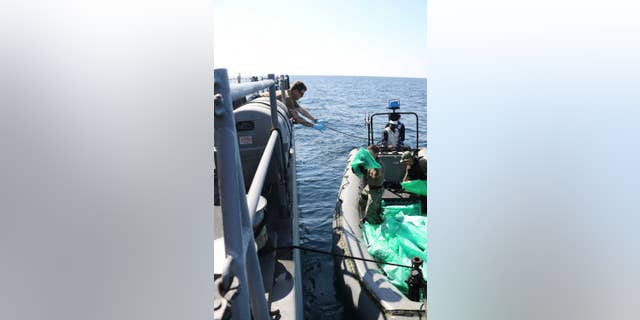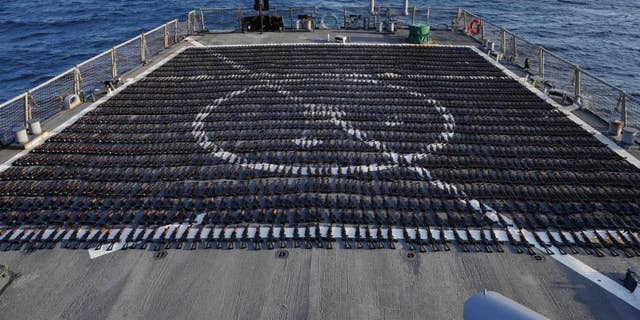 CLICK HERE TO GET THE FOX NEWS APP
US warships fired warning shots on Iranian boats in a similar encounter in May 2021.